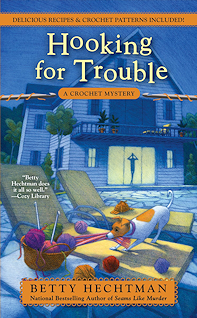 Chapter One

That yarn is going to choke me, Elise Belmont said, trying to pull the pink fibers off her tongue. More of them floated on the air, tickling the noses and sticking to the clothes of everyone in the vicinity of Adele Abrams.

'I don't know what you're fussing about', Adele said, holding up the piece on her long crochet hook. The move made more of the mohair like fibers come loose, and they floated my way. Before I could swipe them from the air, they'd landed on my black sweater.

'I hope you're not using that yarn to teach the class', Mrs. Shedd told Adele. As an afterthought, she added, 'You didn't buy it here, did you?' She pointed at the rows of cubbies holding yarn in the back part of the bookstore.

Adele was befuddled by everyone attacking her yarn. 'No, I'm not using it for the class and no, I didn't get it here. It's just the perfect color for my honeymoon shrug', she said. She held it out to display the color, and the whole group of Tarzan a Hookers tried to shield their faces from the onslaught of loose fibers. Adele looked at the label on the skein of yarn. 'It's just a mixture of mohair and some other stuff. I might have bought it at Bargain Circus', she said offhandedly.

We were at one of what our crochet group, the Tarzana Hookers, called our happy hour get-togethers. Some people have cocktails to release the tensions of the day-our group used crochet.

The conversation and friendship probably helped, too. The Tarzana part of our name referred to the San Fernando Valley community, where Shedd & Royal Books and More was located. The bookstore where we met had a lot of space and had recently added a yarn department , which I was in charge of, along with my other duties at event coordinator and assistant manager.

Adele Abrams worked at the bookstore as well. She was in charge of the children's department. It hadn't been her choice. Really, Adele had wanted the position I'd gotten when I was first hired: event coordinator. She'd been given the children's department as a consolation prize.

Adele made an immediate segue from the honeymoon shrug to her upcoming wedding.

'Have I shown you the photos of the venue?' she asked. The group nodded while trying to hide that they were rolling their eyes. Adele produced the pictures on her phone anyway and showed them around.

'That's the lake, where you can have your ceremony on a barge.' She waited until everyone acknowledged that they'd seen it. She flipped through the rest of them and showed off the rose garden with a gazebo for a ceremony, a small chapel and several small outside area. 'That's the one Cutchykins and I are using.' She said when she got to the last one. 'It featured an outdoor seating area on a slope that overlooked the lake. I only hoped there wasn't going to be a barge wedding happening at the same time.' Adele was busy pointing out the gazebo, which would be decorated with the bride's colors of choice. The reception was to be in a small cottage that was completely devoted to Adele's event.

I nudged my friend Dinah Lyons. 'Why don't you reserve one of those spots? The barge might be nice.' She knew I was joking and made a face at the ridiculousness of it.

'That kind of place isn't for Commander and me. I'm too old for that kind of showy stuff,' she said. Dinah was somewhere in her fifties. She kept the exact number quiet, even from me. Commander was in the same age range - she was divorced and he was widowed. She'd been okay with keeping their relationship uncommitted, but he'd wanted it to be all proper and legitimate, so she'd finally agreed to become Mrs. Blaine.

'Hmm, two upcoming weddings,' Rhoda Klein said, looking up from the doll she was making. 'You know they always say things go in threes.'

When I Iooked up, the whole table was staring at me. 'No way,' I said. 'I'm fine with things the way they are, and so is Mason.' There was so much baggage that came with middle-aged dating. His kids, my kids. My late husband, his ex-wife. It was enough that we had decided to belong to each other, though I'm not even sure either of us knew what exactly that meant. I thought it was an adult version of going steady.

I brought up the schedule, glad to be able to change the subject. 'Adele, it's time for your class.'

Adele pursed her lips at me, no doubt annoyed that I'd spoken first. 'Okay, put away your projects and make room for our new students.' Adele began patrolling the table to make sure everyone did as she'd ordered.

We had tried putting on what we called Yarn University at the bookstore and it had been a tremendous success. Mrs. Shedd was always looking for new revenue streams, so had urged me to keep offering classes. Part of my duties as event coordinator slash head of the yarn department slash assistant manager was to run the classes. It made sense since they were events at the bookstore.

The plan was to offer a new group of classes each month. The class about to begin was in Tunisian crochet. The technique produced stitches that had a different texture than regular crochet and almost resembled knitting. Adele began to lay out a selection of long hooks and hooks with cables attached as people began to come in.