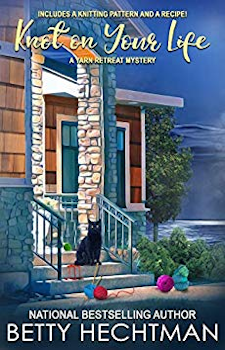 In a new Yarn Retreat Mystery from national bestselling author Betty Hechtman, Casey Feldstein will have to unravel an assortment of tangled clues to solve a knotty murder mystery . . .



"A cozy mystery that you won't want to put down. It combines cooking, knitting and murder in one great book!"

-Fresh Fiction on Yarn to Go


The yarn retreat group visiting scenic Vista Del Mar has already planned their own activities, so part-time dessert maker and retreat host Casey Feldstein is looking forward to a stress-free weekend. But the rustic locale is also playing host to a mindfulness retreat for Silicon Valley start-up entrepreneurs along with a flock of bird-watchers, and soon everyone at the resort is getting wound up. And when Casey discovers the dead body of one of the tech gurus on the rocky shore of the Pacific, she begins to suspect that what looks like an accident is actually a calculated murder.

With so many suspects to choose from and mysterious connections emerging between members of the groups, Casey will have to knit together a colorful array of clues as she wrangles with Vista Del Mar's prickly manager and the curmudgeonly local police lieutenant. And as she closes in on the likely culprit, she'll have to tie up the loose ends of her investigation before the killer can stitch her full of holes . . .

Includes a fun, easy knitting project and a mouthwatering muffin recipe!

More Praise for the Yarn Retreat Mysteries:
---
"If you haven't read this series yet, I highly recommend giving it a go. The mystery will delight you, and afterward you'll be itching to start a knitting or crochet project of your own."
-Cozy Mystery Book Reviews
"The California seaside is the backdrop to this captivating cozy that will have readers heading for the yarn store in droves."
-Debbie's Book Bag on Yarn to Go
Read an excerpt



... and at these online stores ...