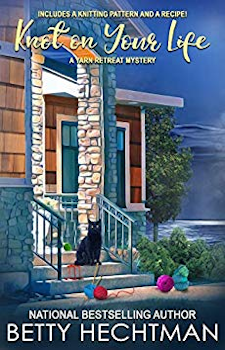 Location, location, location. The comment is meant to indicate the importance of, well, location for houses and restaurants, but it is very important in books, too.

The Yarn Retreat series wouldn't be the same in a different location. The books take place in the fictional hotel and conference center in the fictional town of Cadbury by the Sea located on the tip of the very real Monterey Peninsula. I spent a lot of time there in my mind while writing KNOT ON YOUR LIFE, the seventh book in the series and the twenty-first book I've had published.

I love how the hotel and conference center feels moody with the weathered building under the mostly cloudy skies. It's always jacket weather and the prospect of sitting in front of a glowing fireplace reading a book or doing yarn craft seems very appealing.

The grounds are wild having been left to grow as they choose. When one of the lanky Monterey pines dies and falls over, it's left to decompose. Rumor has it that it's the same for any wildlife that dies. The Monterey cypress trees are shaped by the wind and somehow appear like someone running away with their hair trailing behind.

The air is brisk and smells of wood smoke from all those fireplaces mixed with the tang of the ocean. It's just a short walk through the grounds to the beach where the sand is a silky white and so soft that you don't mind getting it in your shoes. Walking on the beach is fine, but it's too treacherous for bathing. There's a rocky area filled with potential danger for anyone foolish enough to walk on the smooth slabs and boulders and take the chance of being carried out with the tide.

Cadbury has an old fashioned downtown. The movie theater has two screens and no reclining seats. The architecture in the town is an eclectic mixture of styles from a Victorian mansion that have been turned into bed and breakfasts to the Spanish style post office with its terra cotta roof. Cadbury yarn is housed in a bungalow and is a gathering spot for locals and the retreat attendees. Casey does her dessert and muffin baking and has a stream of surprise guests at the Blue Door restaurant which is located in a wood frame former small size residence.

I like to think the location has a mixture of moody and friendly and the perfect spot for murder.

Want to get a heads up on KNOT ON YOUR LIFE? Click here to read an excerpt.

Just a note, if you go to Amazon through my website and buy a book, I receive a small compensation.



In a new Yarn Retreat Mystery from national bestselling author Betty Hechtman, Casey Feldstein will have to unravel an assortment of tangled clues to solve a knotty murder mystery . . .



"A cozy mystery that you won't want to put down. It combines cooking, knitting and murder in one great book!"

-Fresh Fiction on Yarn to Go


The yarn retreat group visiting scenic Vista Del Mar has already planned their own activities, so part-time dessert maker and retreat host Casey Feldstein is looking forward to a stress-free weekend. But the rustic locale is also playing host to a mindfulness retreat for Silicon Valley start-up entrepreneurs along with a flock of bird-watchers, and soon everyone at the resort is getting wound up. And when Casey discovers the dead body of one of the tech gurus on the rocky shore of the Pacific, she begins to suspect that what looks like an accident is actually a calculated murder.

With so many suspects to choose from and mysterious connections emerging between members of the groups, Casey will have to knit together a colorful array of clues as she wrangles with Vista Del Mar's prickly manager and the curmudgeonly local police lieutenant. And as she closes in on the likely culprit, she'll have to tie up the loose ends of her investigation before the killer can stitch her full of holes . . .

Includes a fun, easy knitting project and a mouthwatering muffin recipe!

More Praise for the Yarn Retreat Mysteries:
---
"If you haven't read this series yet, I highly recommend giving it a go. The mystery will delight you, and afterward you'll be itching to start a knitting or crochet project of your own."
-Cozy Mystery Book Reviews
"The California seaside is the backdrop to this captivating cozy that will have readers heading for the yarn store in droves."
-Debbie's Book Bag on Yarn to Go
Read an excerpt



... and at these online stores ...