Chapter One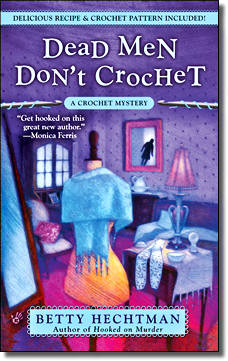 "My name is Molly Pink and I'm a yarnoholic," I announced to my crochet group the Tarzana Hookers as I put my stash on the table. Okay, maybe there wasn't really any such organization as Yarnoholics Anonymous and calling myself an addict was a bit of a stretch, but I was just feeling a little guilty about the yarn I'd just bought. Even though I was new to crocheting, I couldn't seem to leave a yarn store empty-handed. What was I to do this time? The recycled silk was beautiful, in limited quantity and at a special price. Besides, with the Tarzana Hookers meeting again, I was sure to find something fabulous to make with the three skeins. Well, six skeins if you counted the other three I needed to mix with the first three because the woman at the yarn store said that recycled silk was too thin to go it alone.

The Tarzana part of our name referred to Tarzana, California. Technically the San Fernando Valley community was part of the city of Los Angeles, but the people on the other side of the Santa Monica Mountains - or over the hill, as it's commonly referred to - looked at us Valleites as at least one step behind them in the sophistication department.

Our weather was a step behind in the comfort department. It was hotter in the summer and colder in the winter, though this May morning it was cool and cloudy on both sides of the hill. I dealt with it by wearing a white shirt with a sweater over it and a hoodie on top of that. As the day progressed and the sun came out, I'd start peeling off layers, then load everything back on as it got dark and the temperature dropped. It was standard operating procedure for May in southern California.

Three times a week the Tarzana Hookers gathered at 10 a.m. in the event area of the neighborhood bookstore, Shedd & Royal Books and More. A long table was set up in an alcove with a large window facing Ventura Boulevard. We could look out at the street, and passersby could see there was something going on inside. This morning the light was flat and shadowless due to the silvery early-day clouds.

I glanced around the table to see the crochet group's response to my yarnaholic comment, hoping for a smile. Adele Abrams looked up from her work.

"Pink, no matter how much yarn you have, I'm sure I have more."

Some people would have said that to make me feel better, but Adele said it to irritate me; she called my by my last name for the same reason. We had a running rivalry that started when I got the job at Shedd & Royal Books and More after my husband Charlie died. Based on my experience putting on receptions and events for Charlie's public relations firm, Mrs. Shedd, co-owner of the bookstore had hired me as event coordinator-community relations person. Adele had hoped to get promoted to my job. Instead, she'd gotten story time in the kids' department. She still hadn't gotten over it, and it'd been over a year.

"And if you thought it was funny, it wasn't - or even original," Adele said with an implied groan in her voice. Adele Abrams had an ample build and an interesting fashion sense. She liked to think she had flair. Today's ensemble was something of a cowgirl look. She wore boots and a long denim skirt decorated with big sewn-on doily type things. She toped it with a white western style shirt and a leather vest. Her brown hair had some new highlights and was pulled into a minuscule ponytail, with a battalion of clips keeping up the sides.

Even as we talked she kept crocheting. Adele might be a little weird with her clothes, but she was top-notch with a crochet hook.

I had kind of backed into becoming a Tarzana Hooker. It started with too much caramel corn. It was homemade and totally delicious, if I say so myself, but also totally bad for the fit of my khaki slacks. I'd reasoned that if I could occupy my fingers with something besides ferrying caramel corn to my mouth it might help. The Hookers were already meeting at the bookstore, but I didn't want to be totally green when I joined. Actually, I didn't want Adele to be the one to teach me, so when she wasn't looking I had bought a kids' kit we had in the children's department and taught myself the basics. I'd shared the kit with my best friend Dinah and gotten her to join, too.

I was still a newbie, but totally hooked on crochet. I loved watching a ball of yarn turn into something, even if I had to undo it a lot. It was soothing and relaxing, and somehow always left me feeling restored. And there was something wonderful about wrapping a pretty scarf around your neck and knowing you'd made it.

Adele had accepted that I was part of the group, but never missed a chance to remind me how good she was and how I was still struggling. I noticed she was working with what appeared to be a ball of thin string and a small silver-colored hook. I couldn't see what she was making at first, but as it got bigger, I realized it was a doily similar to the ones on her skirt. Maybe she was planning to start a fashion trend.

"Sorry, dear, but Adele's right about your yarnaholic comment not being original," CeeCee Collins said. "We've all said something similar at one time or another. Let's see what you've got." She reached across the table and emptied my bag. The hanks of multi- colored silk tumbled on the table followed by the three companion skeins. The silk ones were shades of reds and warm tones, and the other three were a soft mauve. All were from the Himalayas and promised to help impoverished villagers, which made me feel better about my purchase.

"It's beautiful," CeeCee said, fingering it. "You must give me details aboutwhere you got it." Her real name was Connie Collins, but everybody knew her as CeeCee. She was the reason the Tarzana Hookers hadn't been meeting for awhile. CeeCee was the host of a reality show called Making Amends. The point of the show was to give people a chance to confess to wrongs they'd done, and then the show helped the participants right them. There were a lot of tearful moments and a lot of embarrassing ones too - a winning combo that had turned it into a hit. The production had recently finished making another block of shows and had gone on hiatus so the Tarzana Hookers were back together. It had been too hard for CeeCee to commit to our usual three meetings a week when the show was taping, and though Adele had wanted to keep the meetings going without CeeCee, we had decided to wait until she was free.

CeeCee and Adele were still vying to be head of the group. So far, CeeCee seemed to be wining.

As usual CeeCee's hair was poufed into a stiff bubble. It was that reddish, blondish sort of acrylic-looking color that never occurs without help. She favored velour warm-up suits in jewel tones. Due to the morning chill, she wore a white turtleneck shirt under her jade-colored jacket. She had barely stopped working during the interchange. She was so good at crocheting, I almost believed she could do it in her sleep. But I couldn't figure out what she was making. It was round and brown. I leaned closer and she held it up. It looked like a furry donut with pink icing.