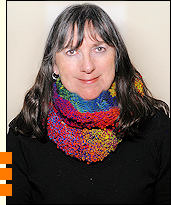 I didn't think there were going to be anymore
Crochet Mysteries
, but I kept hearing from readers asking for more from Molly. I had left her in a bit of a fix at the end of
ONE FOR THE HOOKS
. Even after I typed the end, I kept thinking about what was going to happen to her next. I agonized over how she was going to face certain characters and how she was going to manage the chaos she had caused. I had to keep reminding myself that it wasn't real life. But once it was decided there would be more books, I had to figure out how deal with it all. I threw in some new curve balls and of course, a murder or two for her to solve.
As I'm sending
KILLER HOOKS
out into the world, I am already working on the next
Yarn Retreat
book. I'm calling it
KNOT DEAD, AGAIN
. Casey has her hands full when disaster strikes, cutting off the hotel and conference center just when she's beginning her next retreat. I'm already working on the recipes and my family's mouths are watering in anticipation of being the taste testers.
There's a new series in the works, too. An L.A. crochet artist inherits a yarn shop housed in an old red school house in a small Indiana town near the dunes. The quirky townspeople prevail on her to make one of the former classrooms into a tea shop. I love yarn, that part of Indiana and tea, so it's going to be lots of fun to write.