From School Library Journal:
This fast-paced mystery, set in the heart of Chicago, has well-developed characters. Blue is a typical teen until she is accused of stealing a necklace from the house where she babysits. The priceless antique belonged to Nefertiti, and Blue is desperate to find the thief before her accuser calls the police. At the same time, she's trying to combine her love of cooking with a difficult school project for a mean-spirited teacher. In the end, this smart, creative girl is able to expose the real criminal and get the best of her teacher as well. Hechtman builds teenage frustration and helplessness into a story that readers will relate to from the start. Blue's favorite recipes are included.

Krista Tokarz, Cuyahoga County Public Library, OH
---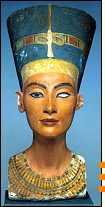 Betty Jacobson Hechtman is a Chicago native who now resides in California. She had a lot of experience babysitting as a teenager, and has translated her experiences to juvenile fiction. She currently resides in California with a cat named Einstein and a dog named Yoga. Her love of baking is apparent in the recipes she thoughtfully provides throughout her book.

Blue Schwartz is thirteen and is the second of two children in a lower middle class family in Chicago. Her schoolteacher parents are pinning their hopes on her brother-the-brain, and Blue feels isolated, except for her good friend Yvonne. When Blue babysits for a Professor Albany's kids, a priceless necklace said to be Nefertiti's disappears. A stern Professor Albany immediately blames Blue for the loss and threatens police action if she doesn't produce the necklace. Blue also has a report due at school for a non-supportive and lazy teacher. Then there is the new guy at school, Shane, who is showing some interest in Blue, making her heart jump. Blue and her friend Yvonne try all sorts of clumsy plans to retrieve the necklace until Blue discovers the culprit and the menace of Professor Albany:

"'He wouldn't really want to call the police. They'd start checking on the necklace and find out what he was claiming to be his was stolen property. No doubt, they'd start asking him a lot of questions he wouldn't want to answer. When you're dealing with illegal things, you don't want the police involved, Blue. Just suppose some drug dealer gets his stash stolen. He isn't about to report to the police.'"

Betty Hechtman does a masterful job of producing Blue's voice for the reader. What goes on in a thirteen year old's head is a mystery to much of the population, including their own parents! Hechtman combines Blue's first tentative steps into adulthood with compassion, wit, and laughter. Blue and her friend Yvonne are delightful characters, as are the friends she makes as Blue struggles with some very adult problems.

Hechtman's plot is fast-paced and scaled down to a teenager's world. She uses cooking as glue to hold together an already intriguing plot that involves visits to the Oriental Institute, where Yvonne's mother works. Hechtman produces a book that is perfect for the 12-15 year old crowd. She manages to teach, entertain, and make the reader smile.

Shelley Glodowski, Midwest Book Reviews
---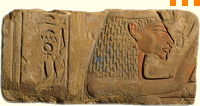 Blue Schwartz And Nefertiti's Necklace piqued my interest simply due to its Egyptian theme and the main character's unusual name. I love mysteries, and this one kept me guessing. At times I thought I knew the culprit, but it turned out that I was only half-right. I was quite impressed with the way author Betty Jacobson Hechtman interweaves so many social aspects and bits of education into her mystery.

Thirteen-year-old Blue Schwartz has a loving home environment; however, the family is having money troubles, and the tension this causes is palpable. Her brilliant brother seems to occupy everyone's energies, yet Blue is blessed with a loyal and loving friend in Yvonne, who fills the void in Blue's life. Like true friends, Blue is also a support for Yvonne.

Yvonne's parents had an interracial marriage, and Hechtman tastefully demonstrates the effects for people unused to marriages like these. Sadly, Yvonne's parents have divorced, and she must adjust to their new lives.

Blue also has a wonderful friend in a neighbor who shares her passion for cooking. Their kind, trusting relationship will appeal to readers. Blue's passion for food comes in handy during the babysitting jobs she takes on in order to finance her expenses and reduce the strain on her family.

A project at school sets Blue apart from her peers in yet another way. Blue always seems to be doing something different from the others, and those who cannot accept her non-conformist ways see her as an outcast. The new guy at school, Shane Clavedo, has Blue hoping that he likes her, yet fear keeps her hesitant and unsure of what to do.

When a valuable ancient necklace is stolen, Blue is blamed for the theft. Upset with the accusation and fearing the consequences, Blue investigates the mystery with the help of her friends.

Readers will be thrilled to find five recipes they can make themselves. Parents, on the other hand, will be thrilled to see that the recipes are healthy and will enjoy their children's growing interest in cooking. Hechtman includes historical and nutritional information on many food groups, creating a story that serves the dual purpose of being entertaining and an educational lesson as well.

Hechtman actually has much in common with Blue. She had babysitting jobs throughout her school years and cooked for the children, just like her main character. A physically active woman, she travels between Chicago and her home in California, which she shares with Einstein, her cat, and Goldy Lox, her dog.
---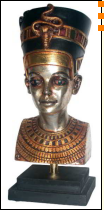 Blue Schwartz and Nefertiti's Necklace is a story about a girl named Blue Schwartz who babysits a lot for Professor Albany's two children when he goes out with his wife, Mrs. Albany. Professor Albany is a teacher who likes to study about old times and things. Other main characters in the story are Yvonne, who is Blue's best friend; Zach, who is Professor Albany's assistant, and Mrs. Bliss, who is Blue's neighbor and where Blue likes to go to watch cooking shows on television. Blue likes to make up her own recipes, and they are in the back part of the book.

The big problem in this story is that Nefertiti's necklace was missing from the glass case in Professor Albany's house. There was a big party at Professor Albany's house, and a lot of people saw the necklace. Professor Albany thinks that Blue took the necklace, and wants to call the police if she does not return it. Blue has many adventures when she tries to find out who the real thief of the necklace was. The ending surprised me.

I loved this book, because it was interesting how Blue made plans to find the necklace and how she finally succeeded in her plans. I was surprised by the ending, when Blue found out who the real thief was. I was very glad that she didn't take it. The recipes in the back of the book were fun to try. Blue likes to cook and learn about cooking and new recipes, just like I do. My mom and I tried all the recipes, and my favorite was the French toast.

I would recommend Blue Schwartz and Nefertiti's Necklace for both boys and girls my age to read because I think they would like the surprise ending and also the cooking recipes.

Regan Zaborowski (age 8) for Reader Views (11/07)