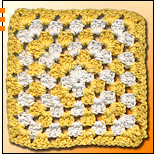 A year has passed since Molly Pinkís husband died from a heart attack and she is beginning to come out of her grief as her life normalizes. Her late spouse co-owned a public relations firm with partner Ellen Sheridan, who forced the widow to sell her half of the business to her.. Even though Molly is poorer, she is happier as she enjoys working as community relations and events coordinator for Shedd & Royal Books and More.

Ellen and her friends are crocheting an afghan at the bookstore for a charity event. One day when she departs she leaves her needles behind. Molly goes to Ellenís home to give her back her needles, but finds her nemesis dead. Detective Heather Gilmore leads the homicide investigation. She hates Molly because she is attracted to a peer who loves the widow. By the tone and questions Heather asks Molly and her friends, the bookstore employee knows the detective is out to get her and has circumstantial evidence to prove motive, method, and opportunity. Molly with the encouragement and help of her best friend investigates knowing the real culprit is out there. Although she finds a more likely suspect, Molly feels manipulated as if she has been sent down a false path to draw wrong conclusions; she continues her inquiries not understanding the right path leads to murder.

HOOKED ON MURDER hooks the reader from the onset with likable characters especially the lead protagonists who does not know when to quit. This charming amateur sleuth cozy contains parallel investigations with the lead cop concentrating on the heroine who focuses on the culprit. Readers will admire the feisty caring Molly, who has moved on with her life, which just like her inquiry, one stitch at a time.